A few weeks ago I finished David S. Reynolds' biography of one of the oddest figures of American history, John Brown. I am by no means an expert on John Brown, so I'm probably not qualified to make a substantive judgment of the book. I will say this, however, it is engagingly written for the most part, and seems to reflect a wealth of background knowledge on the subject. However, my biggest criticism is that it is not as well referenced as it should be. Reynolds uses endnotes, not footnotes, which makes is hard to see the source for a particular fact or assertion. Even worse, some facts are not referenced at all, leaving the reader to wonder if they are mere conjecture or if the author simply forget to source them. Despite this flaw, the book is well-written and paints a vivid (albeit perhaps a little too positive) picture of its subject.

One of the book's major contributions is the picture it paints of violence in ante-bellum frontier America and the South. I mentioned this in an older post. When we decry contemporary acts of savagery, we hardly remember bleeding Kansas.

With a name as common-sounding as Joe Smith, John Brown is a bundle of paradox and contradiction. On the one hand, he was religious in the extreme. A strict calvinist of the strictest conservative puritan mold, he refused to receive guests on the Sabbath. On the other hand, he was extremely progressive in his attitudes on race. Brown claimed that he did nothing more than take the Bible seriously, but in a time when even abolitionists believed as a matter of scientific fact in white supremacy, Brown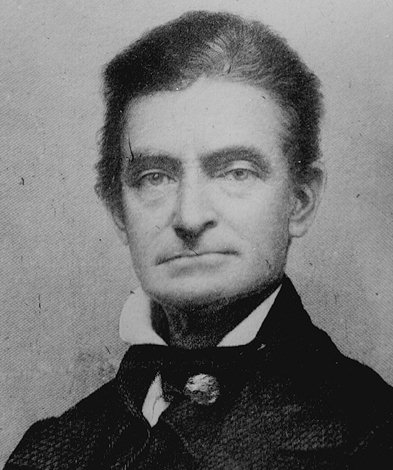 believed in absolute equality. Despite his conservative religious attitudes, he was not exclusionary. His closest followers and confidants included religious men as well as atheists. He did not question their beliefs, only their commitment to kill slavery. He refused to entertain guests on the Sabbath, but his most violent campaigns took place on Sunday.

Understanding religion is key to understanding John Brown. Perhaps it is impossible to comprehend a man who felt called of God if one has not had spiritual experiences oneself. Unlike most other abolitionists, Brown felt that abolition was a heavenly mandate, not just a social good. This is probably the source of his urgency. He hated complacent abolitionists who did nothing but talk almost as much as he hated slaveholders. But faith can be dangerous as well. With a heavenly mandate, Brown felt that any means were justified to end slavery. Killingunarmed men and boys in the middle of night and hacking off their limbs was no crime to Brown. Dostoyevsky's Ivan Karamazov said that if there is no God, then everything is permitted. John Brown seems to suggest the opposite: that with God, (to paraphrase Gabriel) nothing is impossible, even murder is justified by those who believe that it is the will of God. I don't think that a belief in God itself leads one to commit violence, but people use their belief to justify the worst atrocities. Perhaps one of the lessons of John Brown is that faith is a two-edged sword.


But even so, John Brown shouldn't be dismissed as nothing more than a violent fanatic. In many ways, he was the first to take seriously what has become enshrined as the creed of our nation, that legal distinctions based on race are anathema to our national goodness. And he was the first to actually expect that this country would live up to the challenge. In fact, Brown was unique among abolitionists because he believed that the constitution was good. Most abolitionists, turned off by the 3/5 compromise and the guarantee that the slave trade would continue, called the constitution a "covenant with Hell." Brown on the other hand, believed that the constiution was essentially good, and that these flaws should be excised through the amendment process.

I grew up thinking that John Brown was insane to think that his small band of abolitionists could end slavery with an attack on Harper's Ferry. In reality, this is a vast oversimplification of his plan. His plan was not to kill slavery with one blow, but to strike at Harper's Ferry, commandeer the U.S. arsenal there, and flee into the Appalachians where he and his men would at random times conduct night-time raids, freeing slaves and bringing them back to their mountain hideout. Eventually, their small military camp would become a substantial racially integrated community. As this community grew larger, terrorized southerners would see the inevitable end of slavery and would give in to political pressure to end the "peculiar institution." What's more, Brown had historical precedent in Haiti to believe that such a plan would work.

Reynolds' denoument is too literary and too long. After telling an engaging story of Brown's life and death, Reynolds then engages in a survey of literature and popular songs that mention Brown, and attempts to draw a conclusion from all this. While this activity yields some interesting insights and historical trivia, it drags. Despite this, it is a good book. If only for the presentation of ante-bellum American violence, this book is worth reading.